The Company Profile for Financial Institutions (FI) in Kotive Compliance has received a significant update. It has been expanded by more than 100 new properties, ordered into 3 sections, namely:
Company info
Accountable Persons
FI License Functions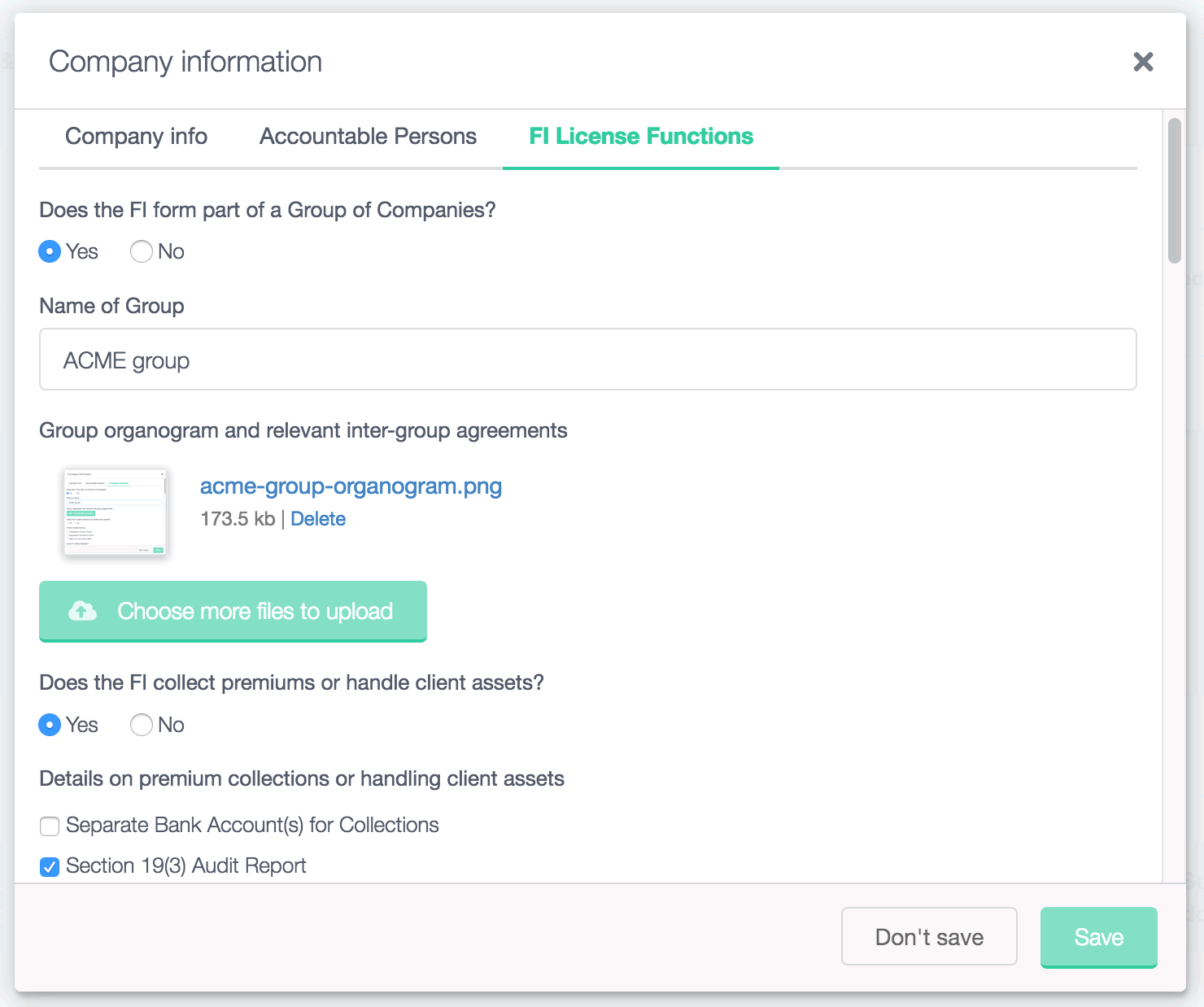 The properties that can be entered, captured and uploaded range from listing the products the FI is authorised to sell, to uploading official company documentation and listing the various Persons responsible for functions within the FI, such as complaints, compliance with licensing conditions and the POPIA Information Officer.
The FI Company Profile acts as the single "source-of-truth" where all the FI's license functions are documented and kept record of.
Seven new registers
Seven new registers have been added to suppliment selections of the Company Profile. The registers are:
Debt Councillors
Foreign or Local Regulators
Industry bodies or unions
Mandates
Meetings
Outsourced services
Professional Indemnity claims
These registers can be updated and maintained separately. They are listed under "Registers" in the main menu.
When updating the FI's Company Information, information from these registers are dynamically pulled-in and displayed as options that can be indicated as and when applicable.
Example of how registers form part of the FI's Company Information
The FI keeps track of all its mandates in the "Mandates" register.
In the "FI License Functions" section in "Company information" there are 2 properties that pertain to Mandates; one related to fund or hedge fund management and the other to Private Equity funds. Under each question or property, you can indicate which mandates are specifically relevant to it.
Another example used 5 times in the "Company information" is the existing "Product suppliers" register that is used in questions or properties related to Short-term Insurance Underwriting, management of segregated deposit accounts systems, Binder holders, Funeral Administrators and reinsurance intermediary.
Where can you find your FI's Company Profile?
In Kotive, go to "People" in the main menu, then choose the "View profile" button (top-right). Find the "Company information" card and choose the "Add" button if it has no information, or the pencil icon to update and make changes to it if it already exists.
Found this post useful? Help us spread the word...
The Company Profile for Financial Institutions (FI) is its single 'source-of-truth' for information pertaining to the FI's Company information, Accountable Persons and License Functions #fsca #compliance